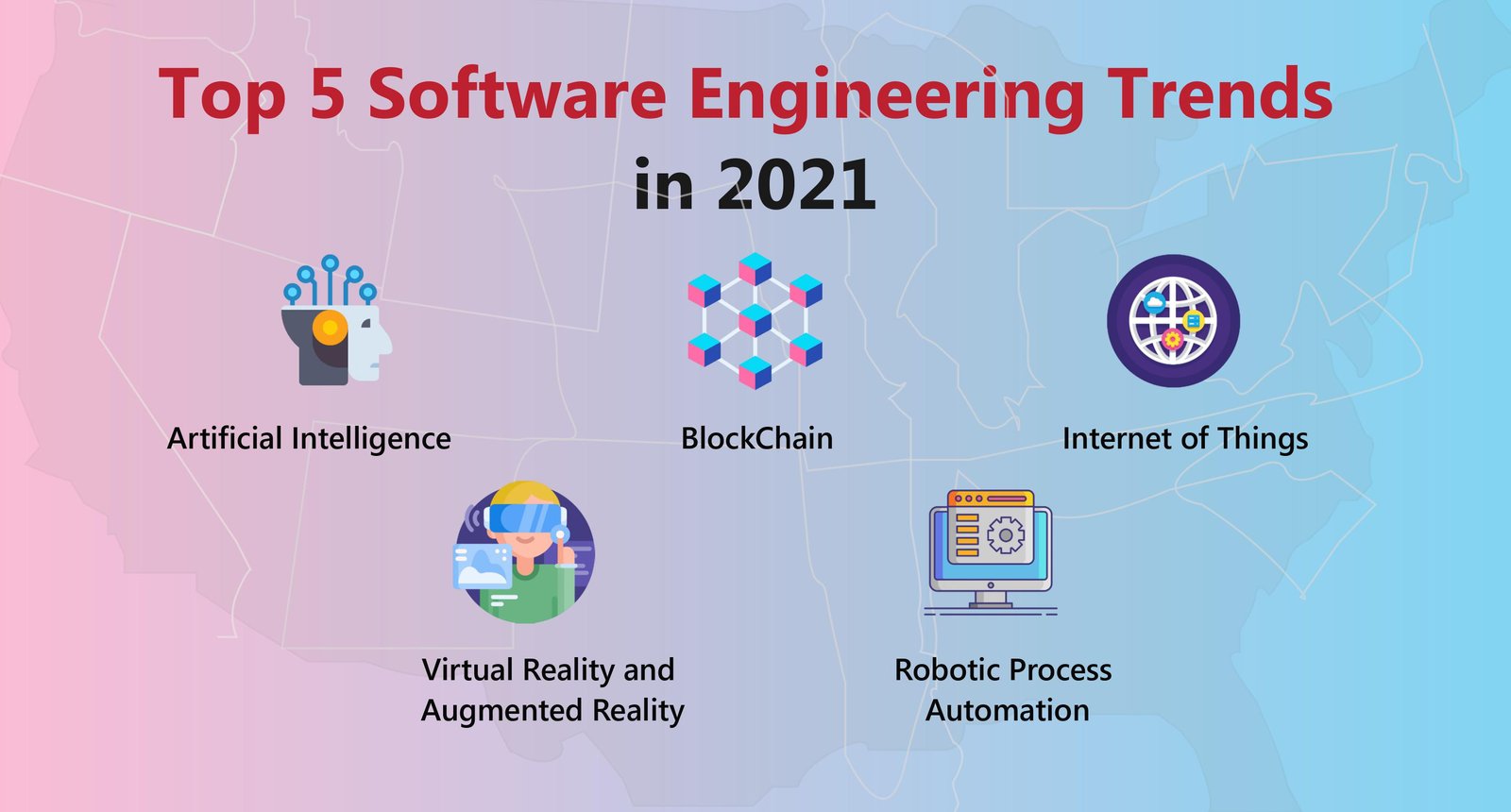 Top 5 software engineering trends in 2021
Technology has transcended every domain of our lives. One can't go a single minute without being touched by technology. It has created a huge impact on our day to day activities. Today the IT sector is growing at such a fast pace that it's hard to keep up with trends. Every year new technology replaces the old. It disrupts the chain and adds a new building block. For example, We have come a long way from the early HTML based website. Today, there are so many frameworks that one often gets confused about what to use.

Being a Software development company in Chennai, we are going to discuss The top 5 core Software engineering trends which are gonna have a huge impact on the way we perceive the world today are:-
Artificial Intelligence
BlockChain
Virtual Reality and Augmented Reality
Internet of Things
Robotic Process Automation
Artificial Intelligence
As the name suggests, AI is all about creating intelligent machines or enabling the machine to make intelligent decisions without human aid. This field has been capturing the minds of engineers for a long time. The craze is such that AI has a prominent place in Movie/Pop culture. Today AI with its subdomain - Machine Learning and Data Science are being used to make robots for various tasks, automated industries, taking automated decisions related to the classification of online content, we have also witnessed the useful application of AI in creating smart devices and next-generation games.
Today what we are witnessing in AI is just the tip of the iceberg. AI has been the fastest growing industry. AI is already known for its superiority in image and speech recognition, navigation apps, and smartphone personal assistants. MarketsandMarkets forecasts the global artificial intelligence (AI) market size to grow from USD 58.3 billion in 2021 to USD 309.6 billion by 2026, at a Compound Annual Growth Rate (CAGR) of 39.7% during the forecast period.
It is believed to create huge jobs for highly skilled professionals in future.
BlockChain
BlockChain has been termed as the most disruptive technology after the internet. We all know about cryptocurrencies which are based on a decentralised BlockChain network. Its true potential is yet to be explored. For now, it has revolutionized how we perceive the financial system. How banks operate, how the flow of money works, how data flow can be organised while maintaining privacy and security.
BlockChain uses blocks to store information secured by Hash code which only the sender knows. This data is traceable and doesn't need any third party to validate the transaction.
BlockChain in its finest form will revolutionize the logistics supply chain management by removing the agents and streamlining the process. This has been used by the govt to provide Direct Benefits Transfer so that aid reaches the last mile.
BlockChain has ushered a new way in finance technology. It is changing the old banks and will impact our day to day activities. From money to the next Amazon order.
Virtual Reality and Augmented Reality
The current generation has grown up watching Star Wars and Iron Man. We have always been fascinated by virtual computers which can be used by moving hands in the air. Today we witness our fantasies coming true. Virtual Reality and Augmented Reality has taken the world we view into a new dimension. We can see an object/thing in front of us without its real presence. We can explore new places, learn complex machines without buying, learn to drive and fly aircraft, in the military we can use it to train soldiers for real-time warfare, we can use it to create topographic maps to make better disaster management plans.
This can be used in so many other things which require the presence of real objects or situations but it's unviable to create them. VR is enabling the study of complex things easier. With the aid of Augmented Reality, we can see them in front of our eyes. We can interact with them. This technology has huge opportunities in gaming and technical education.
VR gaming is already being leveraged by biggies like Sony. Microsoft and Facebook have also invested in Holo lens and Oculus to make VR & AR more adoptive.
Internet of Things (IoT)
Internet of things in simplest words is an amalgamation of modern Electronics and Software with the Internet. The crux lies in connecting electronics devices with the network to receive output wherever and whenever you want. This can be visualised most simply in our fridges. We can get real-time data sitting far away and control the temperature as needed. There are many other uses in navigation, traffic management, railway accident prevention, fitness trackers, building smart homes and many more.
IoT is one of the sectors which has propelled a huge number of startups. According to projections, around 50 billion of these IoT devices will be in use worldwide by 2030, resulting in a massive web of interconnected devices ranging from smartphones to kitchen appliances. Global Internet of Things (IoT) spending is expected to reach 1.1 trillion US dollars in 2022.
As data is collected and analysed, the Internet of Things can improve business safety, efficiency, and decision-making. It has the potential to enable predictive maintenance, accelerate medical care, improve customer service, and provide benefits we have yet to imagine. With 5G we will witness a wave of IoT products making our life easier.
Robotic Process Automation (RPA)
RPA uses software to automate business processes such as application interpretation, transaction processing, data handling, and even email response. RPA automates repetitive tasks that were previously performed by humans. RPA allows software developers to build software robots, or "bots," that can learn, mimic, and then execute rules-based business processes.
Users can create bots using RPA automation by observing human digital actions. Show your bots what to do, then leave them to it. Robotic Process Automation software bots can interact with any application or system in the same way that humans do.
RPA is often termed as a job cutter. According to research, RPA automation will endanger the livelihoods of 230 million or more knowledge workers or approximately 9% of the global workforce. RPA is also creating new jobs while changing existing ones. According to McKinsey, less than 5% of occupations can be completely automated, but approximately 60% can be partially automated.
The main motive of software is to ease the human tasks, RPA will work in that domain.
Apart from these, IT Consulting Firm Chennai is also witnessing a change in cybersecurity, native application development to name a few. In future, we will witness tremendous growth backed by these coming of age technologies.
Our firm seeks to utilise these technologies to drive client demands and needs. We are motivated to give the best results using best in class technologies.